Vintage Tractor Tour from 24.06.2016 - 26.06.2016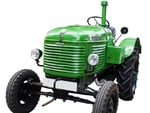 Old fellows of the nostalgic kind, bound by a unique mountain pass road and an incomparable mountain scenery – this is the Antique Tractor Tour 2016.
In June, around 300 antique tractors will meet for the second go-round of the Antique Tractor Tour in Prato allo Stelvio/Prad am Stilfserjoch. A unique experience, not only for the participants. The spectators can also take in a fascinating sight when the polished jewels drive from Prato on the 48 hairpin turns up to the 2,752m high Stelvio Pass on the second day of the event. Not the fastest car wins, what counts is the given target time. One can still really hit the pedal, and passing is allowed as well. After fuelling up on the mountain air and the impressions of the day, one meets at the Tractor Ball in Prato. Here the old and perhaps some newfound vintage car fans can exchange their experiences. Hereafter, the tractors will be fired up again and presented at a demo drive through Prato and Agumes/Agums.
Back to list